Customer Reviews
Write a Review
Ask a Question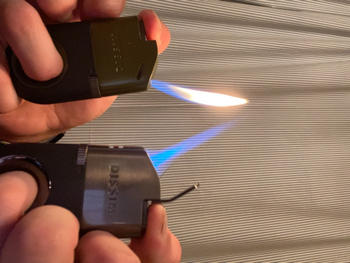 03/22/2021
Dissim Lighters in general.
I have absolutely loved this torch lighter. It's a perfect design! I lost my original Kickstarter lighter (already I know I know. Hopefully it still turns up) but thanks to your companies detail to great customer service and overall taking care of the original backers I was able to get a replacement lighter at an affordable in one of my favorite colors as well (Green)! Now I just have to hope you come out with a full matte black color way and I'm all over it! Keep up the fantastic work!
Austin H.

United States
03/16/2021
Dual Torch
Overall I expect I will never have to buy another torch style lighter. The Dissim Inverted Dual Torch Lighter worked perfectly out of the box after filling. The Dissim lighters are great gifts to anyone that still use lighters and will never disappoint.
MW
Martin W.

United States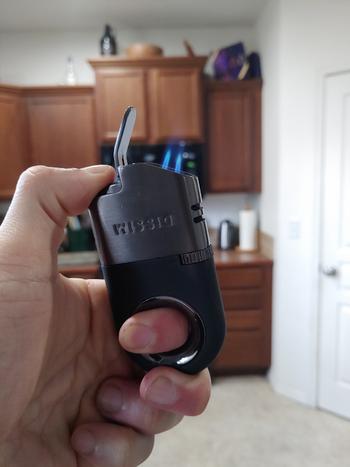 02/23/2021
Great lighter!
I love the innovative design and the ease of lighting. It's not as easy to fill as other jet flames lighters but once you get the nozzles perfectly aligned, it fills quick. I like the colored indicator that tells you when you have it filled. The weight of this lighter is fairly substantial in comparison to the soft flame model, but I enjoy that aspect probably more than others. Overall this lighter is great and if you're on the fence about whether to purchase or not, I would say that you will not regret picking this up to add to your collection.
Michael H.

United States
04/22/2021
Great bushcraft lighter
Works well in windy conditions
Trent T.

United States
04/21/2021
I love this!!!!!!!!!!!
It's just simple awesome!!!! Got one for my wife, my boss, my brother in law and a few more on your first campaign, and they were so happy I had to get this one for me and let them know so they wouldn't do the same!!!! Love everything about it, even the attention you get when you use it in front of others!!!! Thanks!
Guido C.

United States