Customer Reviews
Write a Review
Ask a Question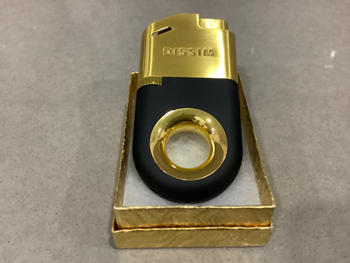 02/06/2022
Dissim Gold inverted soft flame lighter
Already was an owner of a Dissim inverted lighter so there is no doubt that this is one of the greatest lighter's to ever hit the market it's a smoker's best friend even if you don't smoke out of a bong or pipe which the inverted part comes in handy hands down the best lighter I've ever owned.I bought the gold one just for luxurious smoking sessions!!
Kevin P.

Canada
09/16/2021
Beautiful
This is a well designed lighter thank you.
Mitchell C.

United States
09/14/2021
Let's not talk about the lighter let's talk about the amazing staff
Let's not even talk about the lighter let's talk about ur staff they r amazing I had a issue with a product n it was replaced on the spot not question just I'm sending u a new lighter!!!! What!!! Company's don't just do this but ur staff did n I'll buy every lighter I'll ever own from DISSIM I'll never own any other… I didn't get to thank the person that helped me but I hope u see this Thank you for being a great employee
Ernest S.

United States
09/12/2021
Dissim lighter
I am very pleased with my.Dissim.lighter. Its the first lighter I have purchased that lights every time and being an inverted lighter perfect for lighting.my pipe.
Thomas S.

Canada
09/03/2021
Well Made & Good Quality
I am impressed with this lighter…It is much more substantial and well made than I was expecting. Good quality and value for money.
John P.

United Kingdom